What you should know about the Keto Diet plan?
The ketogenic diet is a low carbohydrate, high fat diet that was originally used to treat neurological disease. It involves drastically reducing carbohydrate intake and replacing it with fat. This reduced carb intake puts the body into a metabolic state called ketosis. When this happens the body becomes efficient at burning fat for energy, and turns fat into ketones in the liver which can supply energy for the brain.
The ketogenic diet is the most effective way to enter ketosis. Studies link the diet to weight loss (1), benefits for blood sugar balance and insulin sensitivity (2), and improved health markers (3).
The basis of the diet is limiting carbohydrate consumption to 20-50g per day and filling up on healthy fats. Several versions of the ketogenic diet exist but only the standard and high protein ketogenic diets have been studied extensively. Read on for how to get started with a keto diet, what foods are keto friendly, and how you can make sure your keto diet plan is a success.
Keto Diet Plan for Beginners: Foods to eat and avoid.
The Keto diet is a high-fat, low-carb and moderate protein diet. The goal of the keto diet is to transition to a fat-burning state, where your body burns fat—rather than glucose—for fuel. Fill you plate with healthy fats and lean protein as well as leafy greens.
Food you should eat on a keto diet plan:
Food you should avoid on a keto diet plan:
Benefits and Risks from the Keto Diet.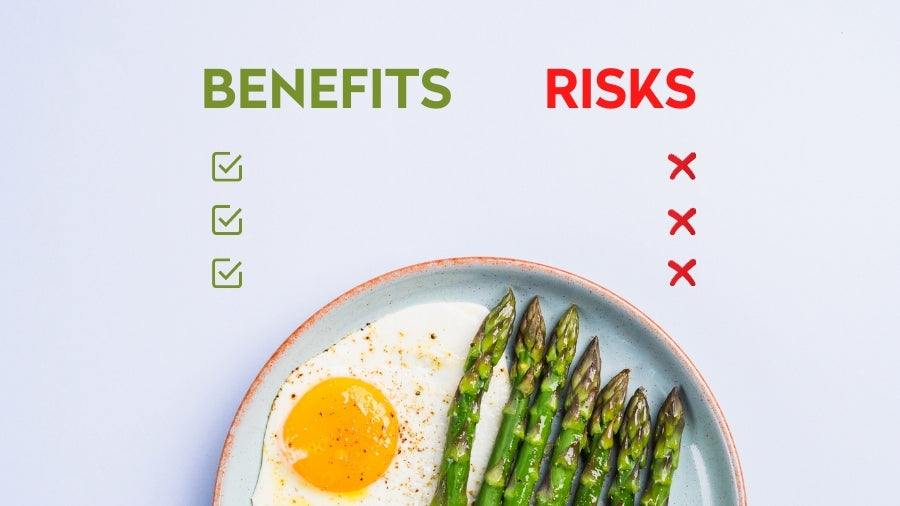 Research suggests the keto diet is an effective way to lose weight and lower risk factors for disease. Studies highlight benefits for cardiovascular health with reductions in diastolic blood pressure and triglyceride levels (3). Other studies show improved insulin sensitivity and blood sugar management (4).
Changing to a keto diet may lead to keto flu in some people. As the body depletes its carb stores and switches to ketones and fats for fuel there may be flu-like symptoms which include headaches, dizziness, fatigue, nausea and constipation- due in part to dehydration and electrolyte imbalances as the body adjusts to ketosis.
It is important to eat foods rich in sodium, potassium, and other electrolytes and to add additional electrolytes to water. The keto-flu side effects should be short term.
Poorly planned keto diets may lead to nutrient deficiencies over time. The quality of food consumed is important; it is key to focus on healthy whole foods over processed foods and keto treats.
Those with kidney disease, diabetes, and other medical conditions should consult a healthcare practitioner before trying the keto diet, and it is not advised in pregnancy and breastfeeding.
What can I eat on a keto diet?
The keto diet places emphasis on high fat foods, and keeping carbohydrate intake low. The standard ketogenic diet is a very low carb, moderate protein and high fat diet- typically 70% fat, 20% protein and less than 10% carbs. Load up on the suggested keto friendly foods mentioned above.
Can you drink coffee on keto?
Coffee is fine on a keto diet plan, as are water and herbal teas. Coffee is almost calorie free, and can be consumed hot/iced or made into a delicious bulletproof style to keep you fuelled all morning. It's the coffee add-ins you will want to avoid, including sugar which will throw you out of ketosis. Make sure whatever you add is low carb and low in sugar. Try a keto coffee: coffee with added fat of choice (MCT oil, butter, ghee) for satiation and supporting ketosis.
How do I eat enough fat on a keto diet?
It is generally recommended to get 70-80% fat from total daily calorie intake. You need adequate amounts to ensure successful adaptation. Getting proper amounts can be difficult, and it may take time to get used to consuming higher fat foods. Adding fats to hot drinks (keto coffees) is a great way to increase fat intake.

Use full fat products. Forget about low fat/fat free as this often means sugar has replaced the fat. Drizzle fats over your veggies: grass fed butter, extra virgin olive oil, avocado oil. Eat fatty snacks- avocado, macadamia nuts, olives, boiled eggs.
What are healthy fats on a keto diet?
Healthy fats on a keto diet include: Avocados, and avocado oil, nuts, nut butters, hemp seeds, olives, MCT oil and omega-3 rich fatty fish. Avoid vegetable oils and seed oils, as well as processed foods which often contain higher amounts of omega 6.
What happens if I eat more protein than fat on keto?
If you don't eat enough fat, and you eat too much protein, you may not go into ketosis and may feel low in energy and hungry. If you eat more protein than you need some of it may be turned to glucose via gluconeogenesis preventing you from getting into ketosis. That said protein is still important on a keto diet in moderation and the amount you need is very individual. The best way to know if you are still in ketosis is to test your ketone levels.
What are healthy fats on a keto diet?
Healthy fats on a keto diet include: Avocados, and avocado oil, nuts, nut butters, hemp seeds, olives, MCT oil and omega-3 rich fatty fish. Avoid vegetable oils and seed oils, as well as processed foods which often contain higher amounts of omega 6.
I heard ketosis was extremely dangerous. Is this true?
Nutritional ketosis often gets confused with diabetic ketoacidosis, but they are entirely different conditions.

While nutritional ketosis is safe and beneficial for health, ketoacidosis is a medical emergency which occurs mainly in people with type 1 diabetes if the body stores up too many ketones and the blood becomes too acidic which can damage the liver, kidneys and brain.

Nutritional ketosis is not the same thing, and is a completely normal metabolic state that uses fat as a primary fuel source.
Shop our keto collection to support your keto diet plan.